ALEC Exposed
From ALEC Exposed
Through ALEC, Global Corporations Are Scheming to Rewrite YOUR Rights and Boost THEIR Revenue
Through the corporate-funded American Legislative Exchange Council, global corporations and state politicians vote behind closed doors to try to rewrite state laws that govern your rights. These so-called "model bills" reach into almost every area of American life and often directly benefit huge corporations.

In ALEC's own words, corporations have "a VOICE and a VOTE" on specific changes to the law that are then proposed in your state. DO YOU? Numerous resources to help us expose ALEC are provided below. We have also created links to detailed discussions of key issues, which are available on the left.
ALEC News
The American Legislative Exchange Council (ALEC) and its offshoot the American City and County Exchange (ACCE) are meeting in Washington, D.C., this week to strategize on how to advance a far-right agenda under a Trump presidency.

Trump Transition leader, Indiana Governor Mike Pence, is an ALEC booster. Not surprisingly the Trump team has been picking many with Koch and ALEC ties to fill key positions in government including Koch Congressman Mike Pompeo, school privatizer and ALEC funder Betsy DeVos, and South Carolina Governor and ALEC stalwart Nikki Halley. Read the rest of this item here.
---
Ballot measures across the country passed on November 8th highlighting the fact that progressive values still resonate with the U.S. electorate. Gains were made even in the face of industry deception and big dollar ad campaigns.

In a victory for climate activists and solar energy, Floridians voted down Amendment 1, a constitutional amendment which would have made it hard for people with solar panels to sell energy back to the grid.

Leaked audio showed that Florida utilities and their allies sought to deceive the public into believing that Amendment 1 was pro-solar. The tapes made front page news across the state and Florida editorial boards weighed in, but as the amendment was very deceptively worded environmentalists were worried. In the end, voters rejected the amendment 50.8 to 49.2, a big defeat. Floridians for Solar Choice worked hard to expose the deception and turn out voters in opposition. Read the rest of this item here.
---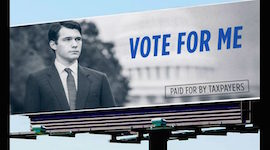 The Koch network has mobilized in South Dakota to defeat the "South Dakota Accountability and Anti-Corruption Act," a state-wide initiative on the ballot November 8.

The anti-corruption measure, Initiated Measure 22 or IM-22, was launched by a bipartisan group called the South Dakotans for Integrity and put on the ballot with signatures from over 20,000 state residents.

IM-22 cracks down on dark money and phony industry front groups by barring candidate coordination with outside groups and regulating independent expenditures. It cracks down on sham "issue ads" by requiring them to be reported electronically within 48 hours, requiring donor disclosure, and requiring the top five donors to be disclosed on air. The initiative also provides a small dollar public financing mechanism, sets rules for lobbyists and gifts, and creates an ethics commission to investigate violations of ethics and campaign finance rules. Read the rest of this item here.
More ALEC News
Center for Media and Democracy and Common Cause File Extensive New Evidence in Whistleblower Tax Fraud Case Against ALEC
ExxonMobil and the American Legislative Exchange Council (ALEC) are running an illegal scheme to promote the oil giant's climate denial policies and legislative agenda in violation of U.S. tax law governing charitable organizations, the Center for Media Democracy (CMD) and Common Cause charged.
In a new filing to the IRS the watchdog organizations detail for the first time how Exxon has used ALEC as a key asset in its explicit campaign to sow uncertainty about climate science, undermine international climate treaties and block legislation to reduce emissions. Read the rest of this item here.
---
The Independent Women's Voice touts its "independent" brand in reaching potential voters.
But is it even women's voices it is throwing? Let alone independent women?
The reported data from the Federal Election Commission data says no. Read the rest of this item here.
---
The Independent Women's Forum and its 501(c)(4) affiliate, the Independent Women's Voice, market themselves to the media and voters as "non-partisan," "independent," and "neutral."
However, a new investigation of the groups by the Center for Media and Democracy (CMD) reveals them to be anything but that.
The full CMD Reporters' Guide is available here. Read the rest of this item here.
Breaking News
Click here to find archived news articles.
ALEC - The Backroom Where Laws Are Born
This is a glimpse into the world of the American Legislative Exchange Council, a corporate-funded charity that pays for lawmaker trips to resorts where they leave with ready-to-pass bills.

Neither ALEC nor the Georgia legislature would show us where the money comes from, or who it goes to.
A Charity for Lawmakers? ALEC Legislator Resigns to Become Lobbyist
Rep. Ben Harbin resigned after two decades as a Georgia legislator the same day as 11ALive reporters asked him for an interview about the American Legislative Exchange Council (ALEC) meeting where he was found behind closed doors with the top state lobbyist for the cell phone industry.

Atlanta's 11Alive follows up on its behind-the-scenes investigation of ALEC.
Sign up for news and updates from the Center for Media and Democracy!
ALEC Exposed is a project of the Center for Media and Democracy (CMD). CMD does NOT accept donations from for-profit corporations or government agencies. More information about CMD is available

here

. You can reach CMD's Executive Director, Lisa Graves, via editor AT ALECexposed.org. Privacy policy: Other than material you post to this wiki in your name, our privacy policy is that we will not disclose private personally identifiable information or data about you, such as your name, email address, or other information, unless required by law. On copyright: ALEC Exposed considers contributions to this wiki to be released under the Creative Commons Attribution-ShareAlike 3.0 License or in accordance with law. Information on how to provide us with notice regarding copyright is available

at this link

. Notices regarding copyright or other matters should be sent to our designated agent, Lisa Graves, via email (editor AT ALECexposed.org).