ALEC Exposed
From ALEC Exposed
Through ALEC, Global Corporations Are Scheming to Rewrite YOUR Rights and Boost THEIR Revenue
Through the corporate-funded American Legislative Exchange Council, global corporations and state politicians vote behind closed doors to try to rewrite state laws that govern your rights. These so-called "model bills" reach into almost every area of American life and often directly benefit huge corporations.

In ALEC's own words, corporations have "a VOICE and a VOTE" on specific changes to the law that are then proposed in your state. DO YOU? Numerous resources to help us expose ALEC are provided below. We have also created links to detailed discussions of key issues, which are available on the left.
ALEC News
Pruitt was the subject of a Pulitzer prize winning New York Times investigation in 2014 ("Energy Firms in Secretive Alliance With Attorneys General") which described "the unprecedented, secretive alliance that Mr. Pruitt and other Republican attorneys general have formed with some of the nation's top energy producers to push back against the Obama regulatory agenda". He describes himself as "a leading advocate against the EPA's activist agenda."
Many fossil fuel funded groups responded to Pruitt's nomination with delight. The American Legislative Exchange Council (ALEC) also expressed its own support for Pruitt, who is a former ALEC member, stressing that he would "work constructively with industry" as well as the states to "spur economic growth." Read the rest of this item here.
---
Written Statement of Lisa Graves on Behalf of the Center for Media and Democracy Submitted to the U.S. Senate Committee on Foreign Relations
Hearing on the Nomination of Rex Tillerson to Be U.S. Secretary of State.
Dear Chairman Corker, Ranking Member Cardin and Members of the Committee:
The Center for Media and Democracy (CMD) would like to bring your attention a matter of serious concern regarding the nomination of ExxonMobil CEO Rex Tillerson to be U.S. Secretary of State. We would also respectfully request that this letter be included in the hearing record on his nomination, which we oppose.
For more than a decade under Mr. Tillerson's tenure, Exxon has poured millions of dollars into nonprofit organizations in order to undermine public confidence in climate science and promote its anti-regulatory agenda. Read the rest of this item here.
---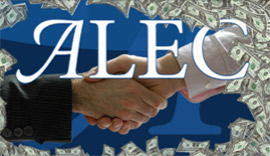 By Steve Arnold, Mayor of Fitchburg, Wisconsin
I first attended an American Legislative Exchange Council (ALEC) winter policy meeting in 2014. There I learned that many so-called "model bills" in the ALEC library had become law in my state of Wisconsin. These include the "cable competition" (deregulation) bill, the "castle doctrine" allowing home owners to shoot intruders, and parts of a bill to make it harder for young, old, and poor people to vote.
Upon my return home, I found that corporate ideas flogged by luncheon sponsors while we ate and promoted at lobbyist tables between sessions at the 2014 meeting had subsequently followed the same well-worn path to "model bills," then state law. Read the rest of this item here.
More ALEC News
Voters spoke very clearly on November 8 when they elected to raise the minimum wage in Arizona and Maine, along with Colorado and Washington State.
But those wins, the democratic process, and the express will of the people are being defied and denied in Arizona and Maine, where corporate lobbyists and their legislative allies are working to block, delay, even rewrite the laws approved on Election Day.
These efforts to flout voter-approved laws are part of ongoing conservative and corporate-backed strategies to keep wages low. Read the rest of this item here.
---
By Steve Arnold, Mayor of Fitchburg, Wisconsin
I recently returned from the American Legislative Exchange Council's 2016 States and Nation Policy Summit, in Washington, DC. As a Mayor, I was most interested in the corresponding meeting of the American City County Exchange (ACCE), an offshoot spawned by ALEC in 2014 to spread ALEC's ideas about "limited government, free markets, and federalism" down to the most local levels of government.
I had attended the 2014 ACCE conference and was eager to see how the group had evolved in its formative years. What plans were its leaders developing in response to the surprising ascension of Donald Trump to President-elect, and the consolidation of republican power in the Congress and in statehouses nationwide? Read the rest of this item here.
Breaking News
Click here to find archived news articles.
ALEC - The Backroom Where Laws Are Born
This is a glimpse into the world of the American Legislative Exchange Council, a corporate-funded charity that pays for lawmaker trips to resorts where they leave with ready-to-pass bills.

Neither ALEC nor the Georgia legislature would show us where the money comes from, or who it goes to.
A Charity for Lawmakers? ALEC Legislator Resigns to Become Lobbyist
Rep. Ben Harbin resigned after two decades as a Georgia legislator the same day as 11ALive reporters asked him for an interview about the American Legislative Exchange Council (ALEC) meeting where he was found behind closed doors with the top state lobbyist for the cell phone industry.

Atlanta's 11Alive follows up on its behind-the-scenes investigation of ALEC.
Sign up for news and updates from the Center for Media and Democracy!
ALEC Exposed is a project of the Center for Media and Democracy (CMD). CMD does NOT accept donations from for-profit corporations or government agencies. More information about CMD is available

here

. You can reach CMD's Executive Director, Lisa Graves, via editor AT ALECexposed.org. Privacy policy: Other than material you post to this wiki in your name, our privacy policy is that we will not disclose private personally identifiable information or data about you, such as your name, email address, or other information, unless required by law. On copyright: ALEC Exposed considers contributions to this wiki to be released under the Creative Commons Attribution-ShareAlike 3.0 License or in accordance with law. Information on how to provide us with notice regarding copyright is available

at this link

. Notices regarding copyright or other matters should be sent to our designated agent, Lisa Graves, via email (editor AT ALECexposed.org).