Corporations actually vote with legislators on model bills?


Yes, that's wrong.

Help CMD continue exposing corruption.
Donate Today!
ALEC Exposed
From ALEC Exposed
Through ALEC, Global Corporations Are Scheming to Rewrite YOUR Rights and Boost THEIR Revenue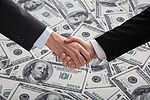 Through the corporate-funded American Legislative Exchange Council, global corporations and state politicians vote behind closed doors to try to rewrite state laws that govern your rights.
These so-called "model bills" reach into almost every area of American life and often directly benefit huge corporations.
In ALEC's own words, corporations have "a VOICE and a VOTE" on specific changes to the law that are then proposed in your state. DO YOU?
Numerous resources to help us expose ALEC are provided below. We have also created links to detailed discussions of key issues, which are available on the left.
Join the Conversation!

Special Reports

A Reporters' Guide to the Koch-funded Rich States, Poor States ALEC Report

The American Legislative Exchange Council (ALEC) is slated to roll out its annual "Rich States, Poor States" publication this week. The document, whose lead author is economist Arthur Laffer, is sold to the press as an objective, academic measure of state economic performance, but should instead be viewed more as a lobby scorecard ranking states on the adoption of extreme ALEC policies that have little or nothing to do with economic outcomes. This year, leaked documents revealed that the report is directly funded by the Kochs, on top of longstanding Koch support for ALEC itself.

Until recently, little information was available about the funders of Rich States, Poor States, but tucked in a cache of ALEC internal documents obtained by the Guardian in December was a spreadsheet (PDF pg. 40) that showed for the first time that Rich States, Poor States is funded by the Kochs' Claude Lambe Foundation, as well as the Searle Freedom Trust.

Read the full article here.

ALEC Open Records Lawsuit

After Unprecedented Claim of Legislative Immunity, Vukmir Releases ALEC Records, Pays Damages

After nearly a year of litigation, the Center for Media and Democracy has settled its open records lawsuit against American Legislative Exchange Council (ALEC) National Board member and Wisconsin State Senator Leah Vukmir.

Senator Vukmir, who had previously insisted that she had no records in her possession and made an unprecedented claim of legislative immunity, is anticipated to release numerous emails from her private email account, and pay $2,500 in damages. This may be the first time a Wisconsin legislator has had to pay damages under Wisconsin's open records law.

Read the full article here.



"We Are All Connected"

"On this 50th anniversary of Martin Luther King's March On Washington, let's remember what we have in common."

Greenpeace presents a powerful new look at ALEC policies and how they harm the public interest.




Bill Moyers Follows Up on ALEC Exposé

United States of ALEC: A Follow-Up

PBS's respected "Moyers & Company" show follows up on a breakthrough 2012 report about ALEC.



Sign up for news and updates from the Center for Media and Democracy!
ALEC Exposed is a project of the Center for Media and Democracy (CMD). CMD does NOT accept donations from for-profit corporations or government agencies. More information about CMD is available here. You can reach CMD's Executive Director, Lisa Graves, via editor AT ALECexposed.org. Privacy policy: Other than material you post to this wiki in your name, our privacy policy is that we will not disclose private personally identifiable information or data about you, such as your name, email address, or other information, unless required by law. On copyright: ALEC Exposed considers contributions to this wiki to be released under the Creative Commons Attribution-ShareAlike 3.0 License or in accordance with law. Information on how to provide us with notice regarding copyright is available at this link. Notices regarding copyright or other matters should be sent to our designated agent, Lisa Graves, via email (editor AT ALECexposed.org).