ALEC Exposed
From ALEC Exposed
Through ALEC, Global Corporations Are Scheming to Rewrite YOUR Rights and Boost THEIR Revenue
Through the corporate-funded American Legislative Exchange Council, global corporations and state politicians vote behind closed doors to try to rewrite state laws that govern your rights. These so-called "model bills" reach into almost every area of American life and often directly benefit huge corporations.

In ALEC's own words, corporations have "a VOICE and a VOTE" on specific changes to the law that are then proposed in your state. DO YOU? Numerous resources to help us expose ALEC are provided below. We have also created links to detailed discussions of key issues, which are available on the left.
ALEC News
On the eve of ALEC's annual meeting in Denver, Colorado Common Cause and the Common Cause Education Fund released a new report uncovering the recent influence of the secretive special interest lobbying group in the Colorado legislature. ALEC is a national secretive lobbying group that is holding its annual meeting in Denver from July 19th-21st. ALEC is known for bringing state lawmakers and corporate lobbyists together in secret to draft and approve "model" bills on different issues, often benefiting its corporate donors' bottom line.

The report reveals the members of the Colorado legislature that have ties to ALEC and which recent Colorado state bills can be traced back to the organization. Additionally, the report highlights ALEC's corporate members and uncovers money given to the organization from both the Coors family and Koch brothers. The report also documents how ALEC abuses its public charity status with the IRS, effectively making its corporate donors eligible for a tax deduction for its funding of ALEC.

"ALEC's secretive corporate lobbying flies in the face of how democracy is supposed to work," said Elena Nunez, executive director of Colorado Common Cause. "Voters may not know who ALEC is, but they have been very influential in Colorado." Read the report here.
---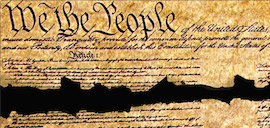 Now that GOP state legislators have control over 32 state legislatures (both chambers), thanks in large part to partisan gerrymandering, some extremists are preparing to use their clout to gerrymander the U.S. Senate.

This week in Denver, July 19-21, the American Legislative Exchange Council (ALEC) will welcome Republican state legislators and its corporate funders, including Koch Industries, ExxonMobil, K12 Inc., Peabody Energy, and PhRMA, to vote on corporate legislative priorities and create cookie cutter "model" bills in task force meetings that are still closed to the press. Read the rest of this item here.
---
With the Trump administration threatening to withhold federal funds from cities and states offering protections to undocumented immigrants, a new report details similar tactics used by the Reagan administration to pressure cities and states to abandon anti-apartheid sanctions and divestment legislation.

The report "Reagan vs. Cities: The 20th Century Battle Over South African Apartheid & Lessons For The Trump Era" provides historical examples of how cities and states can wield power in the face of threats of retaliation for local policies that defy a president's political agenda. Read the rest of this item here.
More ALEC News
This year's legislative season saw a strong push in the states from right-wing groups, bankrolled by the Koch brothers and other ultra-conservative billionaires, hoping to convene a national constitutional convention in order to inject rigid fiscal constraints into our country's founding document. Advocates of a federal "balanced budget amendment" (BBA) picked up two more states, Wyoming and Arizona, in their drive to win the 34 resolutions needed to bypass Congress and convene a convention to propose changes to the U.S. Constitution.
That momentum was blunted by successful campaigns to rescind convention calls in three states, New Mexico, Maryland, and Nevada. Two steps forward and three steps back. Read the rest of this item here.
---
Documents examined by CMD expose a national effort funded by the Milwaukee-based Lynde and Harry Bradley Foundation to assess and expand right-wing "infrastructure" to influence policies and politicians in statehouses nationwide.
The documents were made public in October 2016 on two Twitter accounts that cyber security analysts have linked to one of the Russian hackers alleged to have breached the Democratic National Committee. The Bradley Foundation confirmed in a statement that the hack had taken place and was reported to the FBI.
The documents open a window to the behind-the-scenes workings of one of America's largest right-wing foundations. Read the rest of this item here.
Breaking News
Click here to find archived news articles.
ALEC - The Backroom Where Laws Are Born
This is a glimpse into the world of the American Legislative Exchange Council, a corporate-funded charity that pays for lawmaker trips to resorts where they leave with ready-to-pass bills.

Neither ALEC nor the Georgia legislature would show us where the money comes from, or who it goes to.
A Charity for Lawmakers? ALEC Legislator Resigns to Become Lobbyist
Rep. Ben Harbin resigned after two decades as a Georgia legislator the same day as 11ALive reporters asked him for an interview about the American Legislative Exchange Council (ALEC) meeting where he was found behind closed doors with the top state lobbyist for the cell phone industry.

Atlanta's 11Alive follows up on its behind-the-scenes investigation of ALEC.
ALEC Exposed is a project of the Center for Media and Democracy (CMD). CMD does NOT accept donations from for-profit corporations or government agencies. More information about CMD is available

here

. You can reach CMD's Executive Director, Lisa Graves, via editor AT ALECexposed.org. Privacy policy: Other than material you post to this wiki in your name, our privacy policy is that we will not disclose private personally identifiable information or data about you, such as your name, email address, or other information, unless required by law. On copyright: ALEC Exposed considers contributions to this wiki to be released under the Creative Commons Attribution-ShareAlike 3.0 License or in accordance with law. Information on how to provide us with notice regarding copyright is available

at this link

. Notices regarding copyright or other matters should be sent to our designated agent, Lisa Graves, via email (editor AT ALECexposed.org).