| | |
| --- | --- |
| | 108 corporations depart ALEC, |
ALEC Exposed
From ALEC Exposed
Through ALEC, Global Corporations Are Scheming to Rewrite YOUR Rights and Boost THEIR Revenue
Through the corporate-funded American Legislative Exchange Council, global corporations and state politicians vote behind closed doors to try to rewrite state laws that govern your rights. These so-called "model bills" reach into almost every area of American life and often directly benefit huge corporations.

In ALEC's own words, corporations have "a VOICE and a VOTE" on specific changes to the law that are then proposed in your state. DO YOU? Numerous resources to help us expose ALEC are provided below. We have also created links to detailed discussions of key issues, which are available on the left.
ALEC News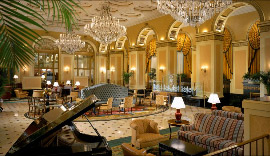 Ironies abound in the 2016 agenda for the Koch-funded American Legislative Exchange Council (ALEC), which brings together corporate lobbyists and state legislators at luxury hotels to vote side-by-side on "model bills" that then pop up in states across the country.

This spring's Task Force Summit, to be held in the glittering Omni William Penn hotel on May 6 in Pittsburgh, Pennsylvania, features a discussion on "Taxpayer Funded Lobbying Disclosure."

ALEC is not worried about the corporate lobbyists stacking its board and committees, or the taxpayer money being shelled out so some politicians can afford the swank Omni. No, ALEC is worried about city and county governments that join statewide associations to lobby state government for funds to provide services to everyday people. Read the rest of this item here.
---
subpoenaed in an expanding investigation by state attorneys general into the funding of climate change denial by ExxonMobil, according to court filings reviewed by the Center for Media and Democracy (CMD).

ExxonMobil has now received separate subpoenas from both the New York and U.S. Virgin Islands U.S. Attorneys' Offices. The Competitive Enterprise Institute (CEI) and DCI Group have also been subpoenaed by the U.S. Virgin Islands for records relating to their role in helping ExxonMobil with climate change denial. Read the rest of this item here.
---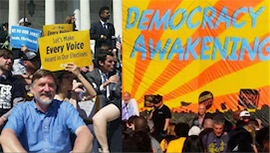 On April 18, I joined hundreds of fellow citizens who were arrested as part of a non-violent act of civil disobedience on the steps of our U.S. Capitol.

I stood with people of all ages and all walks of life as part of a growing movement to reclaim an America that guarantees the unimpeded right to vote for all and a government that works for the people instead of the powerful plutocrats.

I was there as someone who has worked for Clean Elections and ethical government for 20 years, and on behalf of my colleagues at the Center for Media and Democracy. Read the rest of this item here.
More ALEC News
Dane County Circuit Court Judge William Faust struck down the state's private-sector "right-to-work" law late today.
In February 2015, Governor Walker and the Wisconsin legislature pushed through a private-sector right-to-work bill over the objections of thousands of workers and 450 Wisconsin construction firms who rallied against the bill. Workers in right to work states have significantly lower wages and fewer benefits. Read the rest of this item here.
---
An unprecedented leak of millions of documents from the Panamanian law firm Mossack Fonseca has revealed how some of the world's most powerful figures hide their wealth from taxation and public scrutiny. But it also exposes the bankruptcy of the promises of transparency and better governance that helped corporate interest groups like the American Legislative Exchange Council (ALEC) sell the American public on "free trade" with Panama. Read the rest of this item here.
---
The Sierra Club Virginia Chapter and the Center for Media and Democracy released ALEC EXPOSED: Corporate Polluters Undermining Clean Power in Virginia, a report that reveals the influence that ALEC and its political allies have exerted to stymie state climate and clean energy policies.
The report focuses on ALEC's efforts to stop the Clean Power Plan, which sets the nation's first-ever protections against harmful carbon pollution. Read the rest of this item here.
---
The pay-to-play model of government advanced by the American Legislative Exchange Council (ALEC) scored another victory this week. On Tuesday, the Wisconsin Senate voted along party lines to approve a bill that would prohibit local communities from issuing their own rules on plastic bags and other containers. Read the rest of this item here.
Breaking News
Click here to find archived news articles.
ALEC - The Backroom Where Laws Are Born
This is a glimpse into the world of the American Legislative Exchange Council, a corporate-funded charity that pays for lawmaker trips to resorts where they leave with ready-to-pass bills.

Neither ALEC nor the Georgia legislature would show us where the money comes from, or who it goes to.
A Charity for Lawmakers? ALEC Legislator Resigns to Become Lobbyist
Rep. Ben Harbin resigned after two decades as a Georgia legislator the same day as 11ALive reporters asked him for an interview about the American Legislative Exchange Council (ALEC) meeting where he was found behind closed doors with the top state lobbyist for the cell phone industry.

Atlanta's 11Alive follows up on its behind-the-scenes investigation of ALEC.
Sign up for news and updates from the Center for Media and Democracy!
ALEC Exposed is a project of the Center for Media and Democracy (CMD). CMD does NOT accept donations from for-profit corporations or government agencies. More information about CMD is available

here

. You can reach CMD's Executive Director, Lisa Graves, via editor AT ALECexposed.org. Privacy policy: Other than material you post to this wiki in your name, our privacy policy is that we will not disclose private personally identifiable information or data about you, such as your name, email address, or other information, unless required by law. On copyright: ALEC Exposed considers contributions to this wiki to be released under the Creative Commons Attribution-ShareAlike 3.0 License or in accordance with law. Information on how to provide us with notice regarding copyright is available

at this link

. Notices regarding copyright or other matters should be sent to our designated agent, Lisa Graves, via email (editor AT ALECexposed.org).