| | |
| --- | --- |
| | 106 corporations depart ALEC, |
ALEC Exposed
From ALEC Exposed
Through ALEC, Global Corporations Are Scheming to Rewrite YOUR Rights and Boost THEIR Revenue
Through the corporate-funded American Legislative Exchange Council, global corporations and state politicians vote behind closed doors to try to rewrite state laws that govern your rights. These so-called "model bills" reach into almost every area of American life and often directly benefit huge corporations.

In ALEC's own words, corporations have "a VOICE and a VOTE" on specific changes to the law that are then proposed in your state. DO YOU? Numerous resources to help us expose ALEC are provided below. We have also created links to detailed discussions of key issues, which are available on the left.
ALEC News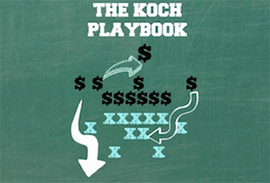 West Virginia Senate President Bill Cole's spokesman said Monday that Cole "will travel throughout West Virginia and beyond...." to talk about his legislative agenda that limits workers' rights.

And, boy, did he go beyond, according to David Gutman of the Charleston Gazette-Mail.

Cole flew to a world far away from West Virginia when he traveled this weekend to the luxurious Esmeralda resort, which describes itself as creating "an atmosphere of luxury and relaxation unmatched" in Palm Springs, California. Read the rest of this item here.
---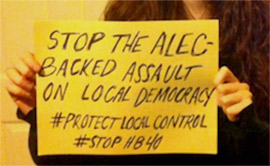 Across America, corporate interests are taking aim at local government.

With Congress gridlocked and a majority of state legislatures controlled by right-wing interests, cities have become laboratories of democracy for progressive policies like a higher minimum wage, LGBTQ protections, or parental leave.

In response, corporate interests and groups like the American Legislative Exchange Council (ALEC) have increasingly been turning to state "preemption" measures—some of them unprecedentedly aggressive--to override an array of progressive policy gains at the city or county level. Read the rest of this item here.
---
West Virginia is the latest front in a national battle to undermine worker rights bankrolled by the billionaire Koch brothers.

The effort in West Virginia to enact a Right to Work law (Senate Bill 1) and repeal the state's prevailing wage (HB4005) is following the same playbook used in Michigan and Wisconsin, involving a similar cast of Koch-backed out-of-state characters to drive the agenda.

Read the rest of this item here.
More ALEC News
With 32 governors proclaiming this week "School Choice Week," and more than 16,000 scheduled events listed on the promotional website, #NationalSchoolChoiceWeek has become a big deal, and not by accident.
Launched five years ago by the Gleason Family Foundation—which spent more than $4.3 million on the project in 2014—the week has grown rapidly through the backing of advocacy groups and deep pockets of funders focused on promoting charters, vouchers, and tax credits that aid private schools, including religious and for-profit ventures.
In federal and state budgets, "school choice" policies often divert or reduce Americans' tax dollars available for traditional public schools that educate our most underserved students or for investment in sustainable and innovative community schools that are truly public. Read the rest of this item here.
---
Yesterday, the American Legislative Exchange Council (ALEC) rolled out another edition of its "Rich States, Poor States" publication. The publication annually slaps a fresh coat of paint on the flawed fiscal and economic austerity policies favored by the group and its corporate patrons.
It's going to take a lot of paint this year.
The poster child for the ALEC anti-tax, low-wage policy agenda is Koch Industries' home state, Kansas, which has been plugged by Governor Sam Brownback as a "real live experiment in supply side economics. But Brownback's tax cuts have thrown the state into fiscal crisis, saddling the state with a projected budget deficit of $190 million for the next fiscal year, no reserves, slashed public services, and lagging job growth. Although wealthy taxpayers and businesses have reaped big benefits, it's an economic disaster for working families. Read the rest of this item here.
---
The Center for Media and Democracy has submitted evidence to California Attorney General Kamala Harris showing how ExxonMobil has promoted climate change denial through the American Legislative Exchange Council (ALEC). CMD believes this information is relevant to her office's investigation into whether ExxonMobil deceived its shareholders and the public about the impact that burning fossil fuels has on climate change.
CMD has identified at least $1,730,200 in funding from ExxonMobil to ALEC between 1998 and 2014, based on publicly available disclosures, although the actual total is likely higher. CMD has documented Exxon funding for ALEC at least as early as 1981.
This funding makes ExxonMobil one of ALEC's biggest financial supporters as ALEC has promoted legislation, resolutions, presentations, and publications seeking to stop efforts to address climate change, and has indoctrinated thousands of state legislators with the idea that "a great deal of scientific uncertainty" surrounds the science of climate change and that carbon emissions "may even be beneficial." Read the rest of this item here.
Breaking News
Click here to find archived news articles.
ALEC - The Backroom Where Laws Are Born
This is a glimpse into the world of the American Legislative Exchange Council, a corporate-funded charity that pays for lawmaker trips to resorts where they leave with ready-to-pass bills.

Neither ALEC nor the Georgia legislature would show us where the money comes from, or who it goes to.
A Charity for Lawmakers? ALEC Legislator Resigns to Become Lobbyist
Rep. Ben Harbin resigned after two decades as a Georgia legislator the same day as 11ALive reporters asked him for an interview about the American Legislative Exchange Council (ALEC) meeting where he was found behind closed doors with the top state lobbyist for the cell phone industry.

Atlanta's 11Alive follows up on its behind-the-scenes investigation of ALEC.
Sign up for news and updates from the Center for Media and Democracy!
ALEC Exposed is a project of the Center for Media and Democracy (CMD). CMD does NOT accept donations from for-profit corporations or government agencies. More information about CMD is available

here

. You can reach CMD's Executive Director, Lisa Graves, via editor AT ALECexposed.org. Privacy policy: Other than material you post to this wiki in your name, our privacy policy is that we will not disclose private personally identifiable information or data about you, such as your name, email address, or other information, unless required by law. On copyright: ALEC Exposed considers contributions to this wiki to be released under the Creative Commons Attribution-ShareAlike 3.0 License or in accordance with law. Information on how to provide us with notice regarding copyright is available

at this link

. Notices regarding copyright or other matters should be sent to our designated agent, Lisa Graves, via email (editor AT ALECexposed.org).