ALEC Exposed
From ALEC Exposed
Through ALEC, Global Corporations Are Scheming to Rewrite YOUR Rights and Boost THEIR Revenue
Through the corporate-funded American Legislative Exchange Council, global corporations and state politicians vote behind closed doors to try to rewrite state laws that govern your rights. These so-called "model bills" reach into almost every area of American life and often directly benefit huge corporations.

In ALEC's own words, corporations have "a VOICE and a VOTE" on specific changes to the law that are then proposed in your state. DO YOU? Numerous resources to help us expose ALEC are provided below. We have also created links to detailed discussions of key issues, which are available on the left.
ALEC News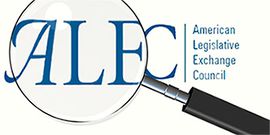 The American Legislative Exchange Council (ALEC) has earned a reputation as a leading corporate influence group in recent years, with corporate lobbyists and legislators voting as equals in secret on scores of corporate bills to deregulate everything from the power and telecom industries to drug prices and health care.

Well, it's no wonder. New research by the Center for Media and Democracy (CMD) shows that the pay-to-play lobby group's biggest corporate funders are also among the nation's biggest violators of the health, safety, consumer, worker, and environmental protection laws ALEC seeks to dismantle.

Read the rest of this item here.
---
FreedomWorks, announces a "Legislator of the Week."

This week, as the fate of Roy Moore, the GOP Senate candidate accused of dating and/or molesting teenagers while serving as an Alabama District Attorney hangs in the balance, ALEC decided to choose a legislator who has had trouble defining rape.

Rep. Brian Greene (R-UT) is happy to introduce ALEC-Koch cookie-cutter bills into the Utah state legislature: "I have used their model policies on issues such as civil asset forfeiture reform and occupational licensing reform. As a result, I have been a leader in my state on both of these issues," boasted Greene.

Read the rest of this item here.
---
The Koch brothers and their network of billionaire political spenders have made their marching orders to Republicans in Congress clear this year—kill the Affordable Care Act and pass sweeping new tax breaks for corporations and the top 1% or don't come looking to us to bankroll your 2018 campaigns.

But in order to execute those orders, lawmakers may have to pay a steep political price by eliminating health benefits and tax breaks that benefit millions of middle income voters as well as state and local governments.

The Trump tax plan is already taking a pounding as a gift to the super rich and to Trump himself. The elimination of a popular tax deduction throws salt into the wound.

Read the rest of this item here.
More ALEC News
More than one-third of the large corporate members of the American Legislative Exchange Council (ALEC), and half of all pharmaceutical company members had mass layoffs in 2017.
Through the corporate-funded ALEC, global corporations and state politicians vote behind closed doors to try to rewrite state laws that protect workers, consumers, and the environment.
ALEC companies may want to spend less time trying to dismantle regulations, and more time running their business.
Read the rest of this item here.
---
A new study of registered voters in Dane and Milwaukee Counties who did not vote in the 2016 presidential election found that approximately 17,000-23,000 eligible voters in those counties were prevented or deterred from voting by Wisconsin's voter ID law. Due to financial constraints, the social scientists were only able to do a study of two of Wisconsin's 72 counties, but the authors say that extrapolating statewide as many as 45,000 people stayed home because of the law.
The study provides definitive evidence that the controversial voter ID bill, made it more difficult for targeted voters to cast their ballots.
Read the rest of this item here.
---
The federal government has slapped eight of the American Legislative Exchange Council's (ALEC) known corporate board leaders with more than $6.2 billion in federal fines and penalties for misconduct or corporate crimes since 2000.
The leading ALEC scofflaws include pharmaceutical giant Pfizer ($4.350 billion), Exxon Mobil ($715 million), Koch Industries ($657 million), AT&T ($421 million), United Parcel Service ($35 million), alcohol multinational Diageo ($17 million), Peabody Energy ($16 million), and Altria (owner of Phillip Morris, the largest U.S. cigarette manufacturer) ($7 million).
Read the rest of this item here.
Breaking News
Click here to find archived news articles.
ALEC - The Backroom Where Laws Are Born
This is a glimpse into the world of the American Legislative Exchange Council, a corporate-funded charity that pays for lawmaker trips to resorts where they leave with ready-to-pass bills.

Neither ALEC nor the Georgia legislature would show us where the money comes from, or who it goes to.
A Charity for Lawmakers? ALEC Legislator Resigns to Become Lobbyist
Rep. Ben Harbin resigned after two decades as a Georgia legislator the same day as 11ALive reporters asked him for an interview about the American Legislative Exchange Council (ALEC) meeting where he was found behind closed doors with the top state lobbyist for the cell phone industry.

Atlanta's 11Alive follows up on its behind-the-scenes investigation of ALEC.
ALEC Exposed is a project of the Center for Media and Democracy (CMD). CMD does NOT accept donations from for-profit corporations or government agencies. More information about CMD is available

here

. You can reach CMD's Executive Director, Lisa Graves, via editor AT ALECexposed.org. Privacy policy: Other than material you post to this wiki in your name, our privacy policy is that we will not disclose private personally identifiable information or data about you, such as your name, email address, or other information, unless required by law. On copyright: ALEC Exposed considers contributions to this wiki to be released under the Creative Commons Attribution-ShareAlike 3.0 License or in accordance with law. Information on how to provide us with notice regarding copyright is available

at this link

. Notices regarding copyright or other matters should be sent to our designated agent, Lisa Graves, via email (editor AT ALECexposed.org).