| | |
| --- | --- |
| | CMD sent two reporters to track ALEC in Oklahoma |
ALEC Exposed
From ALEC Exposed
Through ALEC, Global Corporations Are Scheming to Rewrite YOUR Rights and Boost THEIR Revenue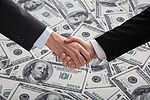 Through the corporate-funded American Legislative Exchange Council, global corporations and state politicians vote behind closed doors to try to rewrite state laws that govern your rights.
These so-called "model bills" reach into almost every area of American life and often directly benefit huge corporations.
In ALEC's own words, corporations have "a VOICE and a VOTE" on specific changes to the law that are then proposed in your state. DO YOU?
Take Action!

TELL YOUR LEGISLATOR TO CUT ALEC TIES!


ALEC boasts on its website that over 2,000 state legislators are members of their organization. ALEC Exposed has identified nearly 1,000 state representatives who are believed to be active members of ALEC. We need YOUR help to identify all ALEC members.

Click Here to Help!

Breaking News

---

What price tag is ALEC putting on your kids?

ALEC is working to ensure that public education dollars get diverted to private for-profit corporations such as K-12, Inc. Their approach is working -- for them. Not so much for the students who pay the price in the form of a subpar education and poor performance.





Join the Conversation!
ALEC Rock

Not the old "School House Rock"

Pulitzer Prize winning cartoonist Mark Fiore
shows how a bill becomes a law ALEC style.


Bill Moyers' Exposé on ALEC

The United States of ALEC

PBS's respected "Moyers & Company" show
delves into the hidden world of ALEC.

ALEC Exposed is a project of the Center for Media and Democracy (CMD). CMD does NOT accept donations from for-profit corporations or government agencies. More information about CMD is available here. You can reach CMD's Executive Director, Lisa Graves, via editor AT ALECexposed.org. Privacy policy: Other than material you post to this wiki in your name, our privacy policy is that we will not disclose private personally identifiable information or data about you, such as your name, email address, or other information, unless required by law. On copyright: ALEC Exposed considers contributions to this wiki to be released under the Creative Commons Attribution-ShareAlike 3.0 License or in accordance with law. Information on how to provide us with notice regarding copyright is available at this link. Notices regarding copyright or other matters should be sent to our designated agent, Lisa Graves, via email (editor AT ALECexposed.org) or fax (608-260-9714).